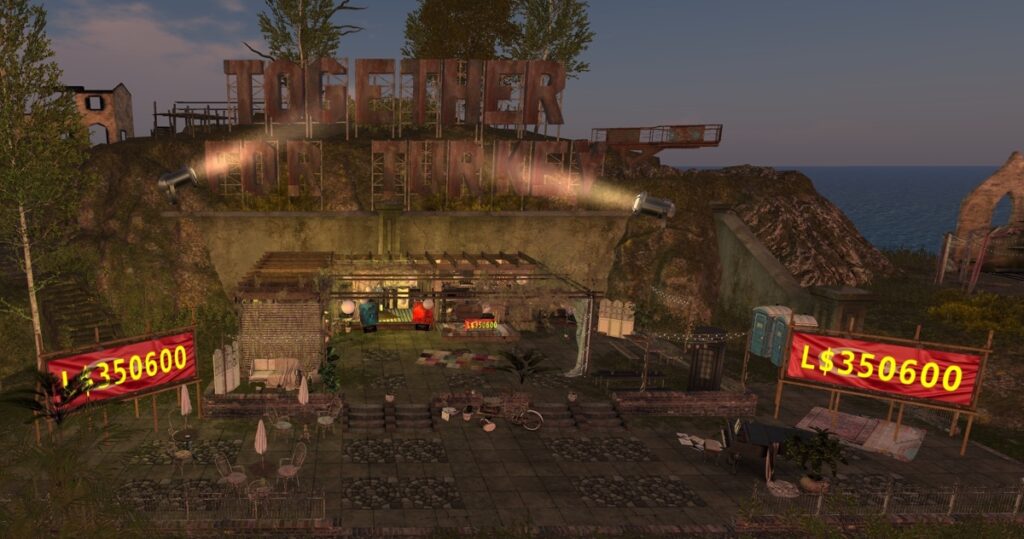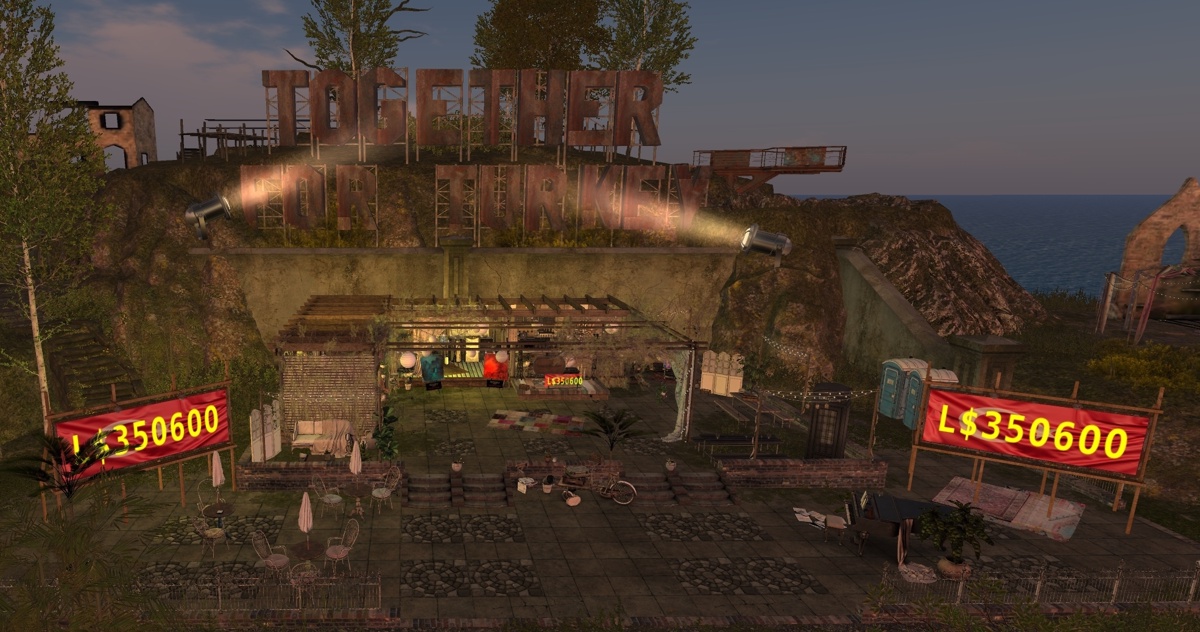 There we go…..this is final and binding confirmation that the money has been transferred;) Special thanks to
ℒĭsɑℳɑʀĭə ℳoonshĭne (lisamarieblonde)
who had the hassle with getting the money there where it was supposed to go;)
The total amount of € 1140,00 has been transferred to: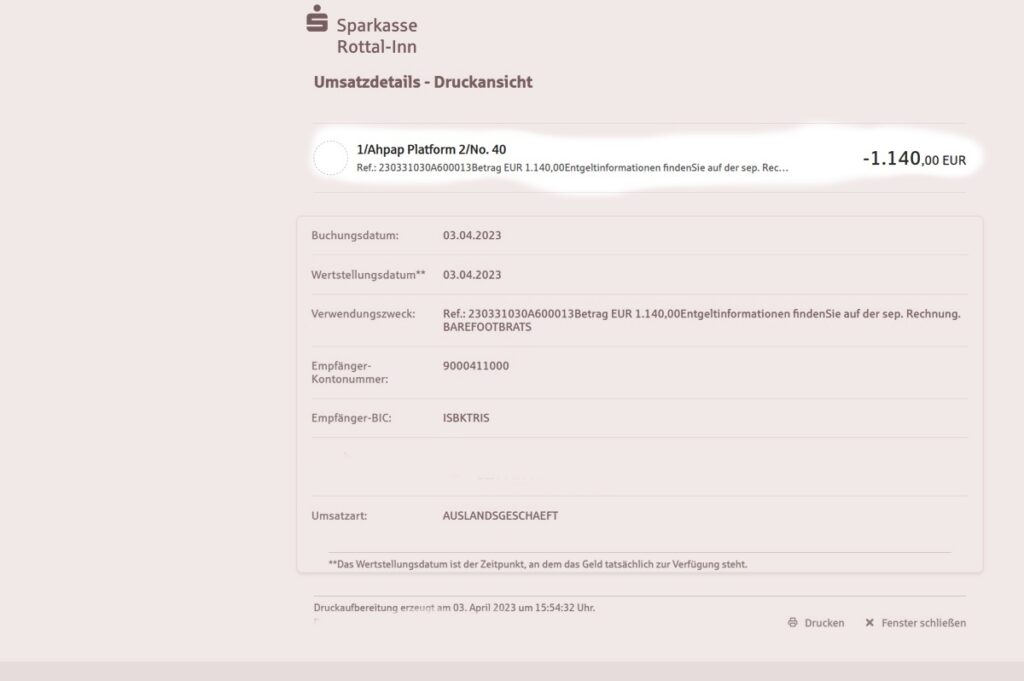 THANK YOU ALL FOR THE DONATION OF OVER 350 000 L$!!

Loved to go with you all through this amazing event. Beside the background of all, which was the main target….it was fun and
great to hear them DJ's, who donated all their tips as well;)
I will share all further steps with you to make sure that the money will arrive. It feels good to work with the SL Organizer "The Braefoot Brats", who involves and let me be part of all steps. Never experienced this trusting connection related to an event like this and to people, as i feel that with you;)) To all who were participated! …. I was really touched throughout;)
Sophie de Saint Phalle (perpetua1010) rezed two paintings from her at the party place ,which she donated for sale ,and on top of that she donated 7K more!! Thanks a lot for being such a heart.
I do know that many donate and help as they can already on other platforms and rl to this desaster related donation points. No matter how you care ……all helps and it was heartwarming seeing and feeling this social community and cohesion also in SL. I sure will keep you updated about all further steps, till you see the funds reached the local organization, which was chosen to transfer it to the individual help those who need it there.
Warm hugs K;)
---
Details about the Event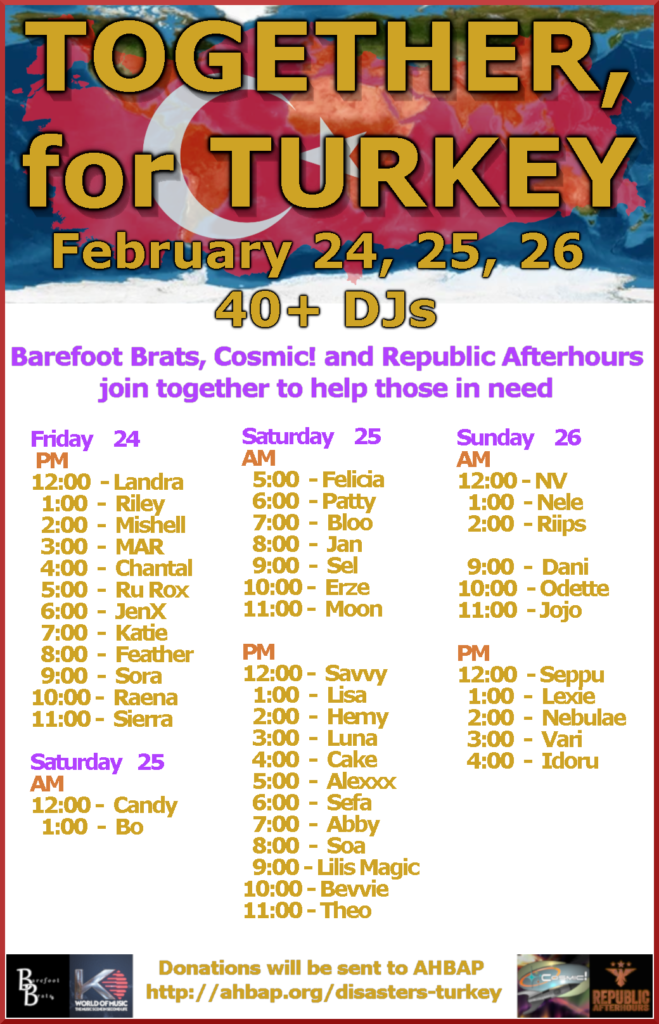 "Together, for Turkey"
Lets stand together and show that we are more than just Avatars in Second Life. This event is for them who want to use this platform and community to support and help humans in need. Be aware of the people who suffer and put a sign of care…..we offer this….please use this opportunity! Thanks to all…..active and passive souls being a part of this! Hugs K;)
"Together, for Turkey"
We all have seen the images of crying people standing near a building what is collapsed, screaming the names of their children, daughter, son, mom or dad, the names of their friends, loved ones, brothers and sisters. Hoping they get a little sign of them who are trapped under the buildings.
When we saw the horrible pictures after the earthquake hit Turkey we did not have to think long to decide we wanted to do something to help the people in Turkey.
The Barefoot Brats, Cosmic and Republic Afterhours are joining together to host a major fund raising starting
Friday, February 24 12PM SLT
until
Sunday, February 26 3PM SLT.
This is 40+ hours of the best DJ's in SL who are so kind to participate in this fund raising event.
A very important thing for us is to show we are transparent where all the donations go and we have decided to all your contributions collected this weekend to https://ahbap.org/disasters-turkey.
All the tips donated this weekend will go to the organization, all the DJ's will do this event for free and get no tips.
Also, K , of K's Music World, will make a blog on her website after the event with all the info so everyone can see how much and where all the donations are sent, here at: https://ksworldofmusic.com/
This fund raiser event will be held at venue built for the event on the Brats land at Estancia Moonshine

If you want more information before, during or after the fund raiser you can contact inworld:
Aʅєҳҳҳ Kɪƭƭєɲ (alexis.littlepaws) >> Cosmic
Varisya >> Barefoot Brats
Sierra Angel (sierraangelic)  >> Republic Afterhours
ℒĭsɑℳɑʀĭə ℳoonshĭne (lisamarieblonde)  >> Barefoot Brats
We understand some of you may have questions when it comes to donations and the charity we have chosen. We have investigated the organization and have found it to be legitimate and reputable. We want everyone who supports this event and donates Lindens this weekend to be assured it is a trustworthy organization, so here some links that will help you feel confident your donations will be used properly:
Earthquake in Turkey and Syria: a list of active organizations we can support
Providing Support to Turkey and Syria
We really hope we will see you all at the event.
Together we can help Turkey in this horrible time
Varisya, Lisa, Alexxx, Sierra
---
Supported by K's World of Music

now also available inworld! All Music Lovers, active or passive, can join my Group for free! DJ's and Club Owners please contact me directly to get the right Group Tag as K's supported DJ, or and Club Owner.
SL Group key: secondlife:///app/group/00b0bc50-66f1-c46a-1b41-7fdbe21e864b/about
also available on following platforms: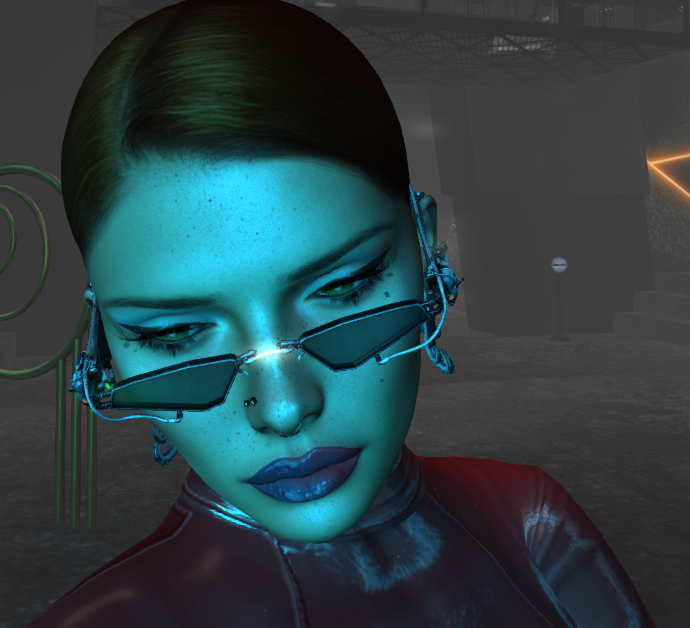 find more Informations about the DJ'
s, Clubs, Events and more in the comment/reply section under each Post and Page;) Thanks all for your support of the SL Music Scene;) K;)