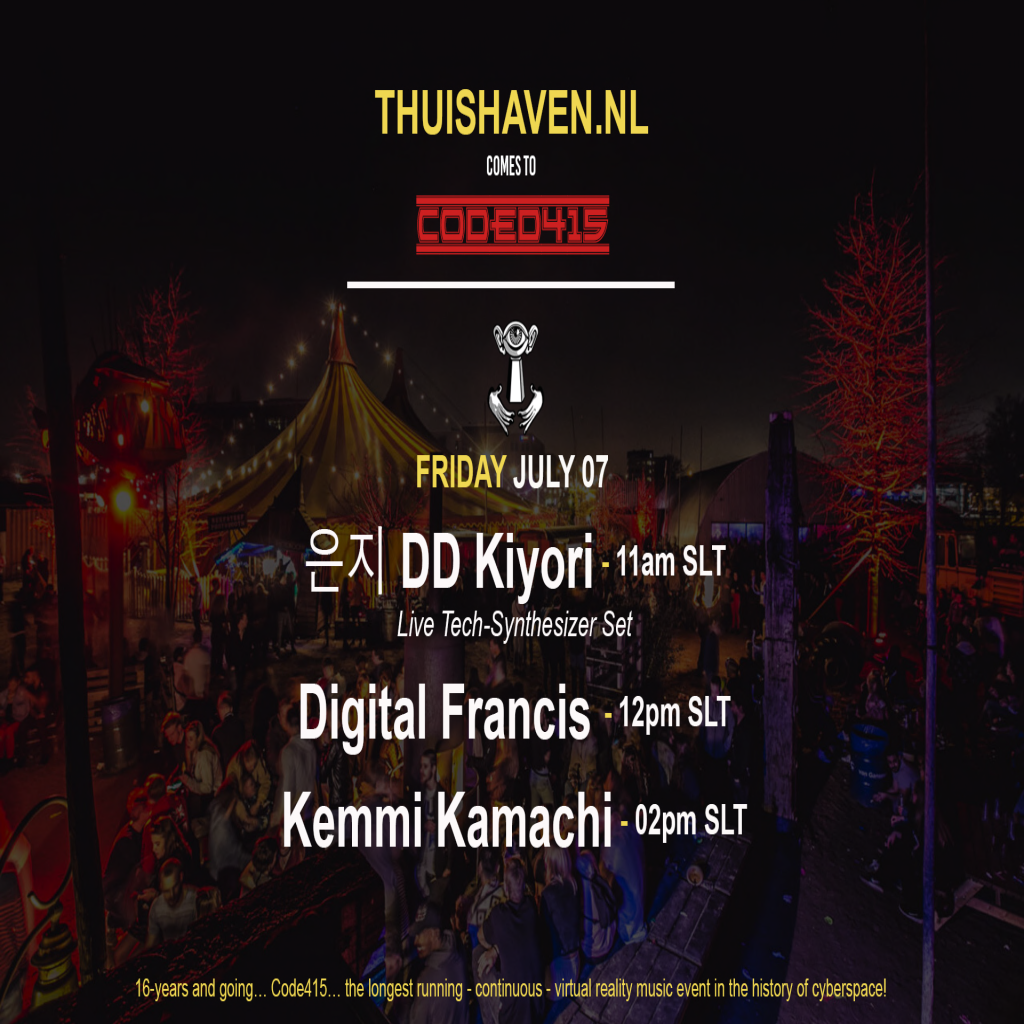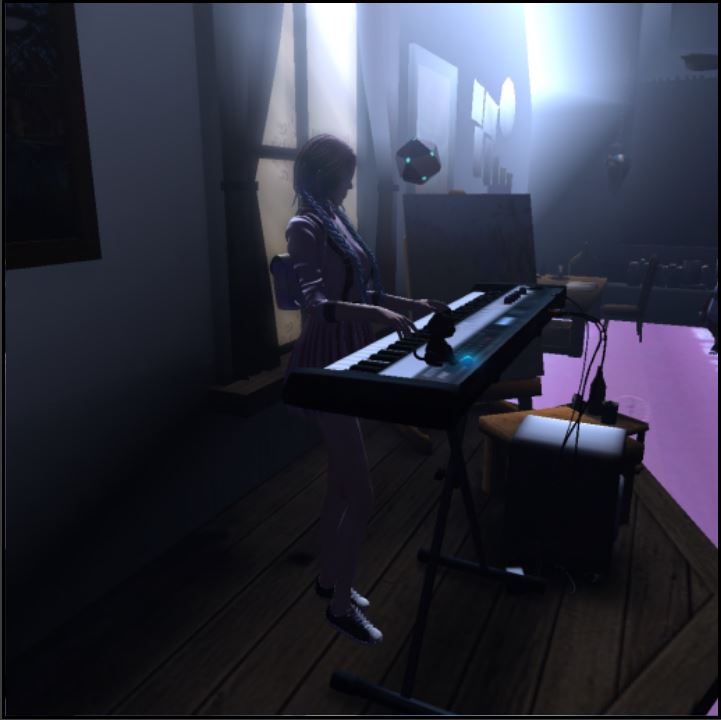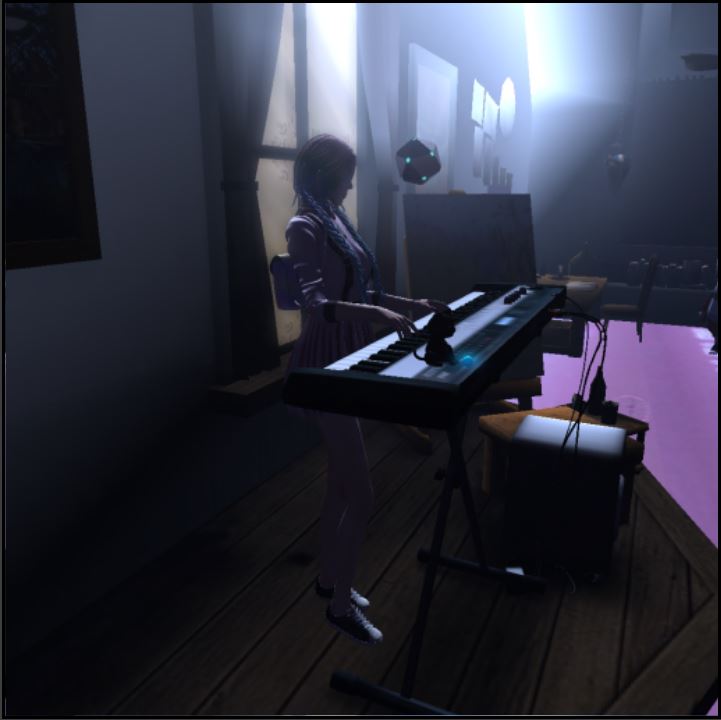 inworld name: 은지 은지 DD (dd.kiyori)

inworld name code:
e655157a-097f-40a5-85bf-1322aa28330c
inworld group key:
secondlife:///app/group/3875c958-a678-e45f-62c6-c91a63a5ce6b/about
listen her
"Since 2012 I make music for and in SL. I am autodidact and see sounds as colors to paint music. I mix styles from ambient to techno and use field recordings to make a landscape in sounds. I am not a DJ and when I make a new set I have no construct or plan, it all comes from the mood and moment, it's a pure psychological automatism."
inworld name code:
13d94a0e-89b2-4e3b-a575-4523a6399367
Established Digital Nation in 2007, which is One Of SL's Original Underground Electronic Music Venues.
Digital Nation Inworld Group Key:
secondlife:///app/group/6b9356e7-0468-7d0d-90eb-6e2e9bf007b2/about
In SL for Music/DJing: I Play / Like: 'UNDERGROUND'
TECHNO – Raw/Peak-Time/Detroit –
MINIMAL / DEEP TECH-HOUSE, MELODIC, ELECTRONICA –
HOUSE – Deep/Afro/Progressive/Classic/Modern/Jackin –
et. al, vis-à-vis, etc. So, musically genre-fluid, minus the pro-nouns!
Either way, it's all about just creating a nice vibe, pretty uplifting energy & sharing the love with fellow music heads. Peace 🙂
Inworld name:
inworld name code:
6ce7b890-81d2-4fe7-9816-ac386bb8aeec
-started spinnin records at the age of 12.
-produce music under aliases Kemmi Kamachi and Toine
-run record label T1 Music.
Kemmistry is a format that took shape in code 415 back in 2007.
At these sessions I spin almost only (very) recent released tracks; call it catch of the week. Many (sub)genres of techno and house mashed up into one solid content. This ussually results in an exiting journey of sound, we like to call KEMMISTRY

inworld landmark url: CODE
inworld radio stream: united-beats-radio
contact inworld: Longinus Fapp

CODE OPENSTAGE-Openstage 4 Electronic Music
for music and friends!
running since 16 years…….please check this cult spot out..!

Show your DJ talents ! Techno tunes
Free stream is provided… details behind booth.
Have fun!

fridays a resident dj Kemmi kemmi-kamachi

---
>> thanks long for the permission to spread this out in my blog and facebook;)
---
Supported by K's World of Music

now also available inworld! All Music Lovers, active or passive, can join my Group for free! DJ's and Club Owners please contact me directly to get the right Group Tag as K's supported DJ, or and Club Owner.
SL Group key: secondlife:///app/group/00b0bc50-66f1-c46a-1b41-7fdbe21e864b/about
also available on following platforms: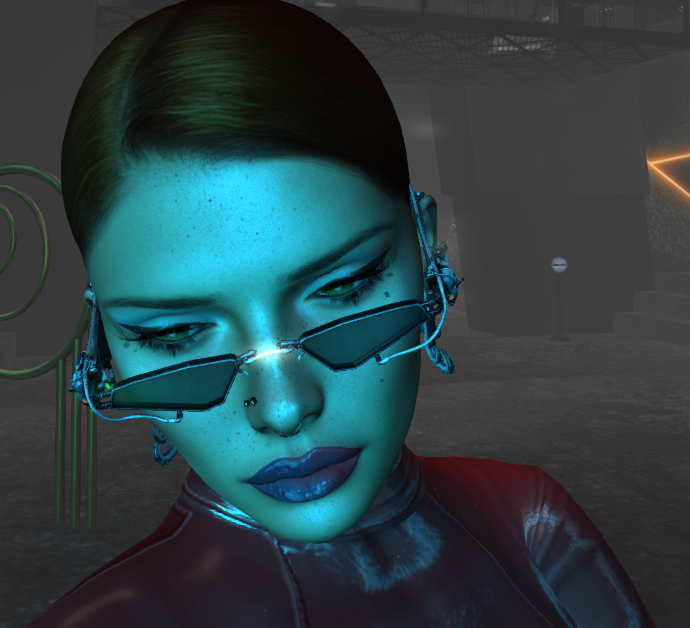 find more Informations about the DJ'
s, Clubs, Events and more in the comment/reply section under each Post and Page;) Thanks all for your support of the SL Music Scene;) K;)