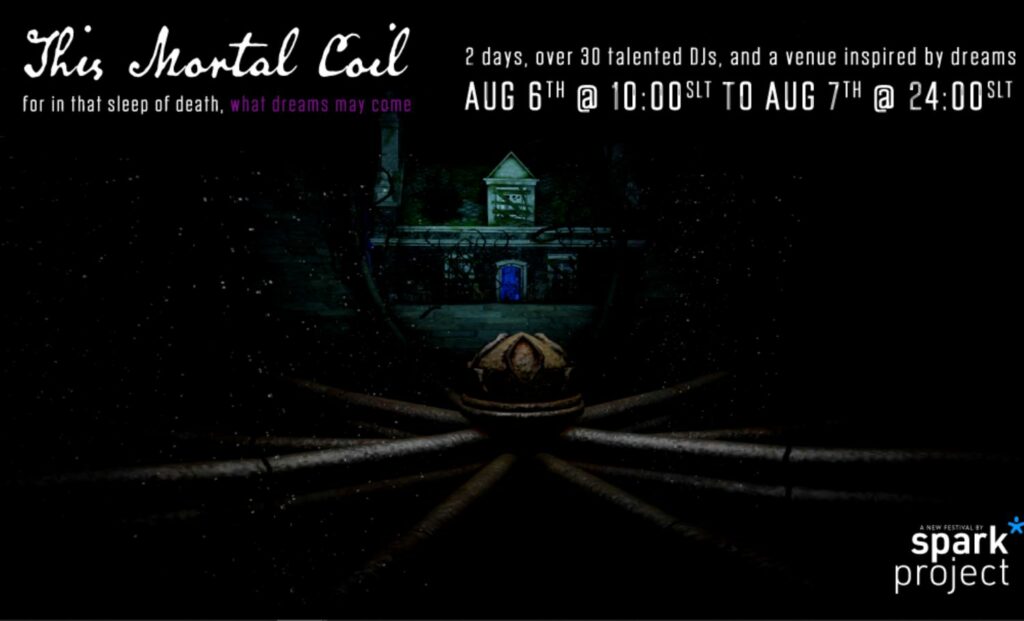 THIS MORTAL COIL

/ The Spark Project
co-builder:
rαvєn вαnríσn (ravenstarr)
on Discord:

Ravenstarr

#1055
I'm just a nerdy girl with a yearning to create and connect. I'm a little shy at first so don't be afraid to say hi. I'm interested in intelligent conversation and meaningful connections. No pressure…
"Creativity is intelligence having fun."
---
The New Project >>

THIS MORTAL COIL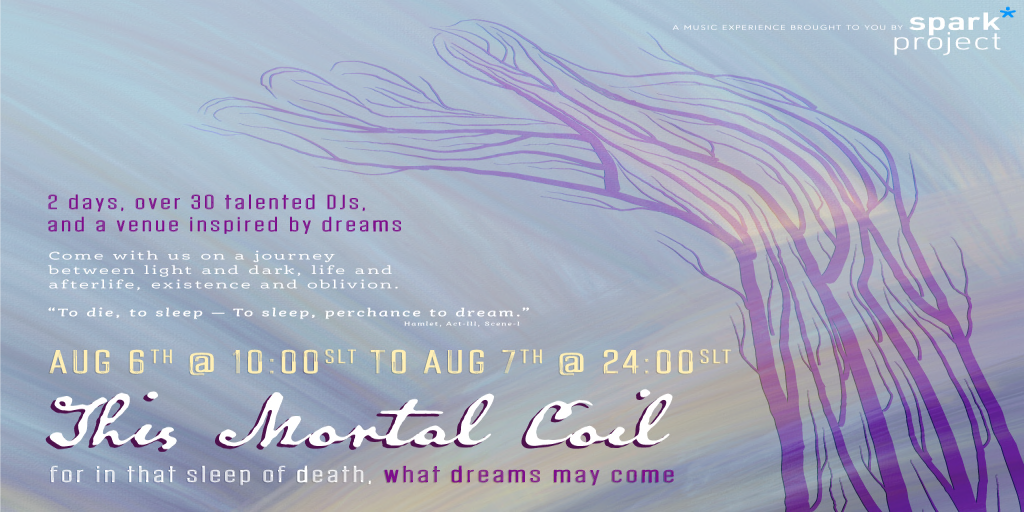 𝓣𝓱𝓲𝓼 𝓜𝓸𝓻𝓽𝓪𝓵 𝓒𝓸𝓲𝓵
𝐂𝐨𝐦𝐞 𝐰𝐢𝐭𝐡 𝐮𝐬 𝐨𝐧 𝐚 𝐣𝐨𝐮𝐫𝐧𝐞𝐲 𝐛𝐞𝐭𝐰𝐞𝐞𝐧 𝐥𝐢𝐠𝐡𝐭 𝐚𝐧𝐝 𝐝𝐚𝐫𝐤, 𝐥𝐢𝐟𝐞 𝐚𝐧𝐝 𝐚𝐟𝐭𝐞𝐫𝐥𝐢𝐟𝐞, 𝐞𝐱𝐢𝐬𝐭𝐞𝐧𝐜𝐞 𝐚𝐧𝐝 𝐨𝐛𝐥𝐢𝐯𝐢𝐨𝐧.
"𝘼 𝙬𝙝𝙤𝙡𝙚 𝙝𝙪𝙢𝙖𝙣 𝙡𝙞𝙛𝙚 𝙞𝙨 𝙟𝙪𝙨𝙩 𝙖 𝙝𝙚𝙖𝙧𝙩𝙗𝙚𝙖𝙩 𝙝𝙚𝙧𝙚 𝙞𝙣 𝙝𝙚𝙖𝙫𝙚𝙣." -ᴡʜᴀᴛ ᴅʀᴇᴀᴍs ᴍᴀʏ ᴄᴏᴍᴇ (ғɪʟᴍ)
𝟐 𝐝𝐚𝐲𝐬, 𝐨𝐯𝐞𝐫 𝟑𝟎 𝐭𝐚𝐥𝐞𝐧𝐭𝐞𝐝 𝐃𝐉𝐬, 𝐚𝐧𝐝 𝐚 𝐯𝐞𝐧𝐮𝐞 𝐢𝐧𝐬𝐩𝐢𝐫𝐞𝐝 𝐛𝐲 𝐝𝐫𝐞𝐚𝐦𝐬.
【 ᴀᴜɢᴜsᴛ 𝟼ᴛʜ ᴀɴᴅ 𝟽ᴛʜ 】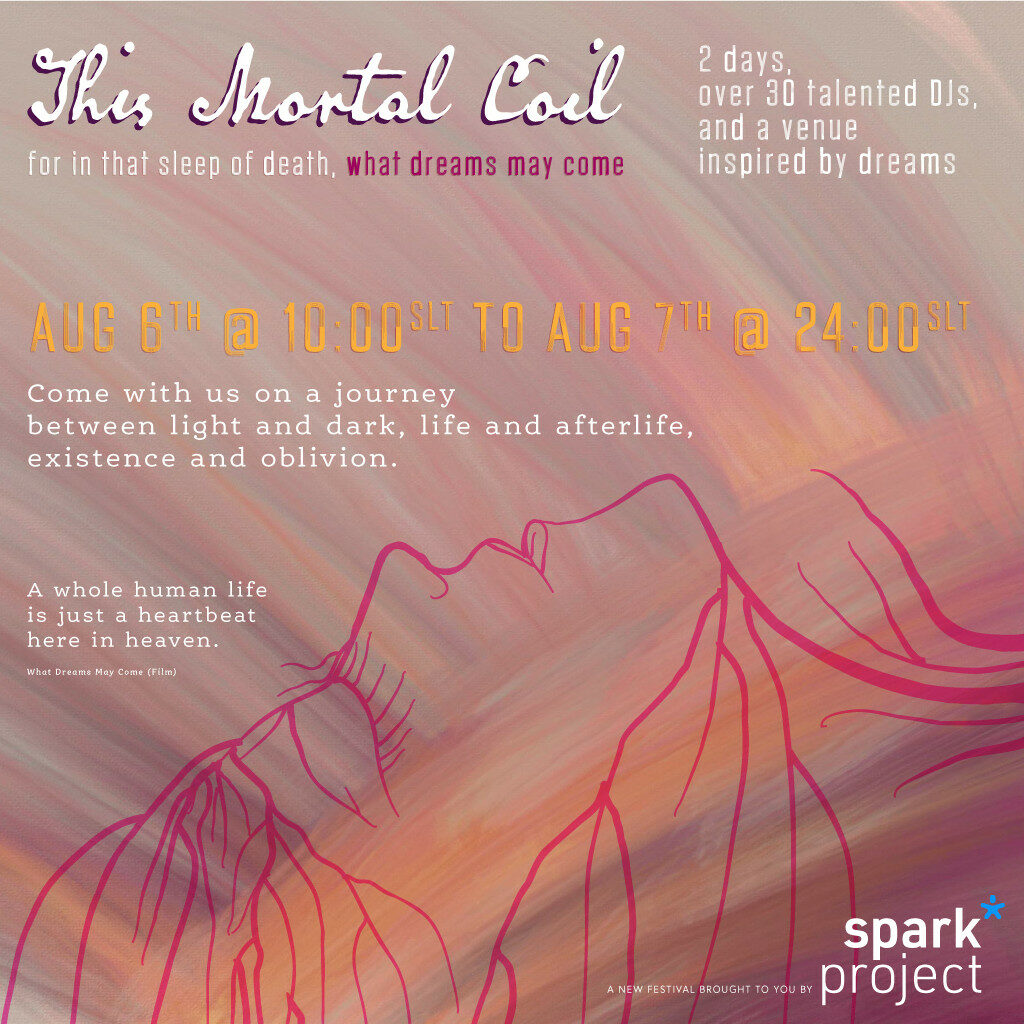 ᴄᴏᴍɪɴɢ ᴛᴏ ʏᴏᴜ ᴏɴᴄᴇ ᴀ ǫᴜᴀʀᴛᴇʀ, sᴘᴀʀᴋ ᴘʀᴏᴊᴇᴄᴛ 🞲 ɪs ᴀ ɴᴇᴡ ғᴇsᴛɪᴠᴀʟ ʙᴜɪʟᴛ ᴏɴ ᴀ ᴄᴜʀᴀᴛᴇᴅ ɪᴅᴇᴀ ᴄᴇʟᴇʙʀᴀᴛɪɴɢ ᴍᴜsɪᴄ, ᴀʀᴛ ᴀɴᴅ ғᴀsʜɪᴏɴ.
SL Inworld Group Key:
secondlife:///app/group/40da3485-083a-06fa-826c-200956cc4242/about
---

THIS MORTAL COIL
2 days, over 30 talented DJs, and a venue inspired by dreams
August 6th and 7th
Come with us on a journey between light and dark, life and afterlife, existence and oblivion.
A new festival brought to you by Spark Project.
---
THIS MORTAL COIL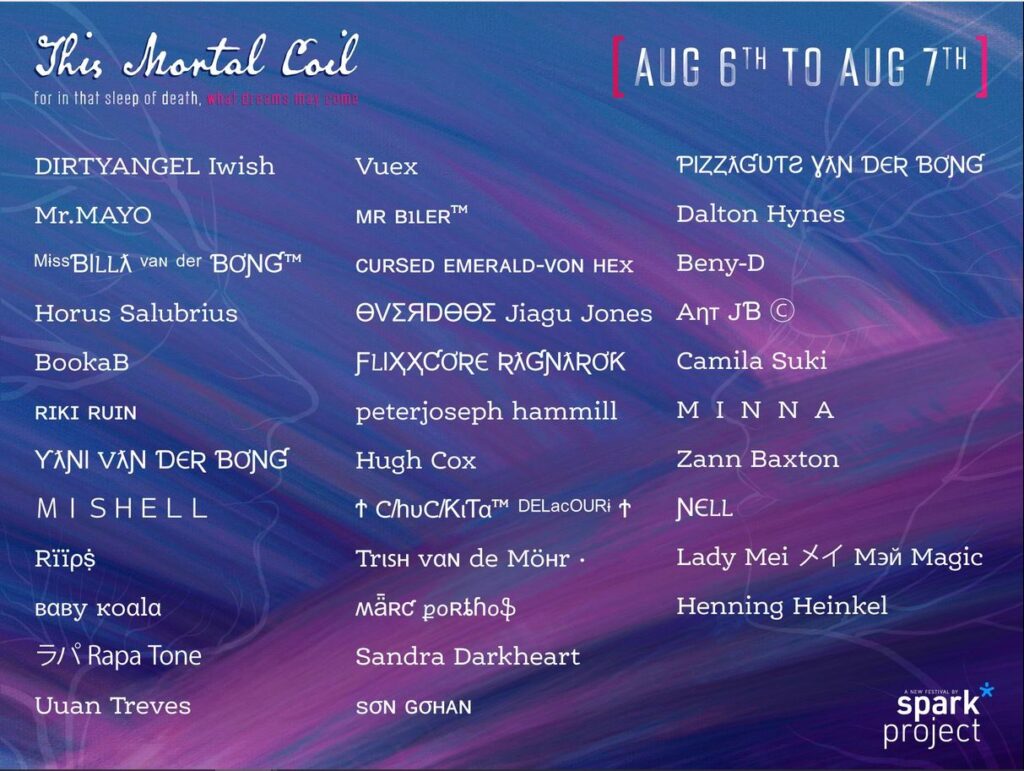 More about the already listed and participating DJ's you will find below, or use the Search Button on the main Blog Page
Thanks Raven for the permission to spread this out in my Blog and all my other Platforms;)
---
Supported by K's World of Music

now also available inworld! All Music Lovers, active or passive, can join my Group for free! DJ's and Club Owners please contact me directly to get the right Group Tag as K's supported DJ, or and Club Owner.
SL Group key: secondlife:///app/group/00b0bc50-66f1-c46a-1b41-7fdbe21e864b/about
also available on following platforms: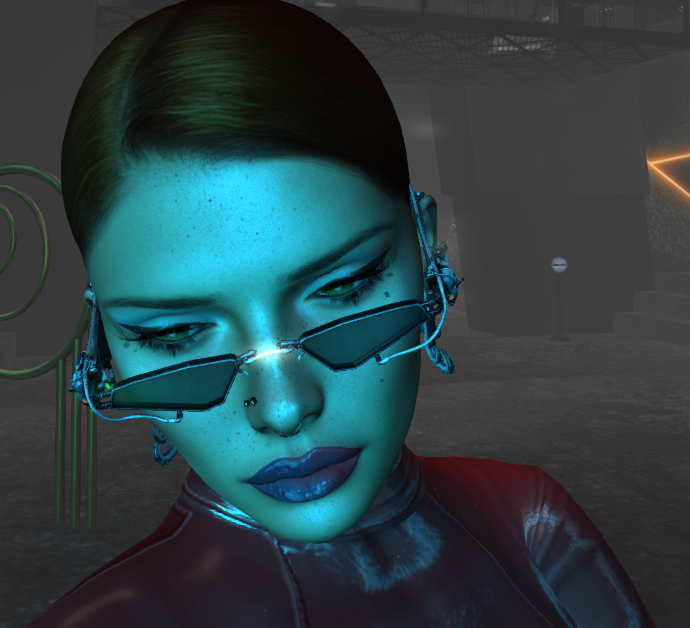 find more Informations about the DJ'
s, Clubs, Events and more in the comment/reply section under each Post and Page;) Thanks all for your support of the SL Music Scene;) K;)